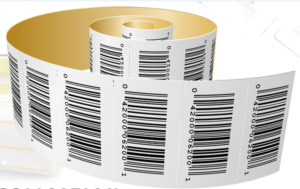 Advanced Automation can build custom labels, tags, receipts and wristbands to meet the requirements of your unique barcoding/labeling applications. When you do not see the particular size or color of label that you need in stock on our website, request a custom label quote by answering a few questions to help us best understand your needs. Other reasons customers request custom labels include unique surfaces that the label needs to adhere to, such as curved or rough surfaces, challenging applications like viles, test tubes or chemical drum labeling and extreme temperatures up to 500 degrees.
COMMON CUSTOMER QUESTIONS:
What is the difference between stock and custom labels? Stock labels are popular predominantly due to their sizes and colors, so they are kept in stock thanks to a high demand. Custom labels are unique in size, color or how they are going to be used and are made to order.
How can I order custom labels? Request a custom label quote through our website. Or you can contact us for a consultation on the right label for your application. We have over twenty-five years of experience customizing solutions for large and small companies in a myriad of industries.
What are some of the types of custom labels I can order?

Tamper-proof: Tamper-proof or tamper-evident labels leave a "void" pattern when removed.
Retro-reflective: Retro-reflective materials are typically used for rack and bin label applications, which means they are far away from the typical read range of the scanner. These labels have small fragments of glass in the label surface, which "lights up" the label when the scanner is aimed at it, increasing the scan and read range.
Cryo-cool: Used on cryogenic applications involving a deep freezing process, such as medical labs and hospitals.
Piggyback: A matte polyester label with an acrylic adhesive that can be over-laminated with a clear polyester liner is used mostly for asset labeling management: chemical containers, automotive labeling and UID compliance.

Specialty tags: We can build paper or synthetic tags for garments, greenhouses, nurseries, agriculture, retail, construction and much more. Fabrics include Tyvek, nylon, vinyl, etc.
Colored or pre-printed: For customers who require a lighter shade of green or a more fluorescent orange, for example, than those available in stock. Pre-printed means we can have your business's logo or barcodes printed onto your labels so the labels are ready to use when they arrive. 

Therma-lock: These labels can be used in place of thermal transfer labels as they are more durable than a paper label plus resistant to chemicals, outdoor exposure for up to 18 months. Therma-lock labels are designed for use with mobile computers.

Do I need direct thermal or thermal transfer labels? In this post, we talk about the two types of thermal printing labels: direct thermal and thermal transfer. In short, thermal transfer printed labels have a longer lifespan and are more resistant to extreme temperatures, weather conditions and chemical contact. Direct thermal labels are sensitive to heat and light and are best for indoor applications without excessive wear and tear.