ZEBRA ANNOUNCES DS2208 1D/2D BARCODE SCANNER
Zebra announces the DS2208 as part of the 2200 Scanner Series, the affordable and easy-to-use addition to the LS2208 1D series. With 2D barcodes showing up everywhere from retail stores to manufacturing warehouses, the DS2208 updates your business's scanning capabilities with 2D technology. This 1D/2D scanner does not compromise performance or features for price–even the accessories are backwards compatible with the LS2208 series, meaning your company can minimize total costs by saving on investing in accessories.
What makes the DS2208 easy to use?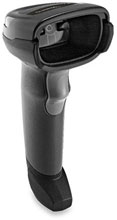 Setup time is reduced since Zebra's DS2208 is pre-configured and ready to use out of the box. Simply plug the DS2208 into the point-of-sale (POS) and the auto-hose detect cables will automatically identify the interface and connect the imager.
2D scanners offer omni-directional scanning so users don't need to line up the imager and the barcode, unlike 1D scanners.
Zebra's PRZM software decodes poor quality barcodes, alleviating having to scan the barcode twice or more at the POS.
This corded scanner can switch to hands-free mode automatically by simply placing the scanner in its presentation stand.
Questions about the DS2208 or interested in a product demo to see if this solution is right for your business? Contact Advanced Automation here.