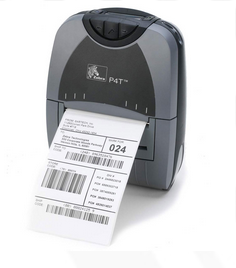 The Zebra P4T mobile printer series is being discontinued on September 30, 2017 and will no longer be available for purchase on that date. Rest assured, Advanced Automation will continue servicing P4Ts until October 31, 2022. We understand the cost of replacing technology and want to ensure that our customers who don't upgrade right away can continue running their businesses without interruption.

The Zebra P4T is the industry's only thermal transfer mobile printer, but we have a solution for customers who still need to print durable, synthetic labels on the go with their mobile printers: Thermalock 4000D labels. These polypropylene labels are more durable than traditional direct thermal paper labels–they don't absorb moisture, have a longer lifespan and are more resistant to extreme temperatures. Plus, they use an innovative technology to create a more permanent image, so expect no fading of your label's print! This blog post covers what makes the ThermaLock 4000D the best solution for applications with tough-to-meet durability requirements.
ThermaLock 4000D labels are a custom product and you can contact us here for a quote. If you are not yet familiar with the custom label ordering process, read this blog post for answers to common customer questions.
If your business is ready to move into different mobile printers once the P4T goes end of life in September 2017, we suggest using the QLN420 with the Thermalock 4000D labels. The QLN420 series has Link OS so IT staff can manage and program printers remotely from one browser.
Contact us here if you want a consultation on which labels or printers are best for your business applications before sending in a quote request.