Businesses running on legacy equipment and software eventually face the reality of upgrading from their old technology. That transition can be quite daunting.
Customer Challenge:
Customer needed to make the transition away from old legacy equipment and software. They needed to make the move from XT15's to MC93's and Win CE to Android.
The Issue:
The customer's users across all facilities were familiar with the setup and function of the legacy devices. They were using TekTerm TE and needed to upgrade and transfer their TE settings because corporate controlled the software overseas. Keypad mapping, specifically with the function keys needed to occur in order to keep the same setup, so employees would not have to be retrained and the software settings would not have to be remapped.
The Tools Needed: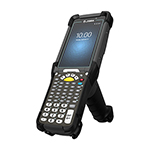 The Solution:
Staylinked provided test licensing and everything needed to get SmartTek up and running. Their team has extensive experience with the product and can assist with any questions throughout the process.
Customer was running the discontinued TekTerm solution. We needed to find a solution that could enable them to update their hardware, but continue to use their software with minimal disruptions. This being the case, SmartTEK was developed to facilitate the migration from the legacy Windows devices to new Android ones without making any changes to host applications.
With Staylinked on board, they were able to help qualify the type of legacy Tek Term solution deployment. And from that discovery, determine the replacement SmartTEK system configuration. Staylinked was also able to assist with customer set up of a SmartTEK system for proof of concept. And provide engineering support through initial deployment.
With the proof of concept validated, the customer was able to deploy a few Zebra MC93's to a couple different facilities and test thoroughly. This went better than expected and as a result, the IT staff and operations of the company no longer had to worry about discontinued hardware and trying to manage legacy software. On top of this, transitioning to new, modern hardware gave the users a boost in productivity due to better performing devices and improved scanning performance.
"Staylinked solution works well. Users noticed pretty decent improvement". IT MGR
Does your business need to upgrade? Make it a smooth transition! >> Start Here