ZEBRA 6000 SERIES RIBBONS
Introducing Zebra's 6000 line of ribbons for the value-conscious customer! The 6000 ribbons have three options to go with every thermal transfer printing label.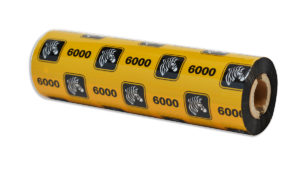 We are making it easier for you to find the right ribbon for your thermal printer with a breakdown of differences between the three labels in this series:
6000 wax ribbon: The 6000 is ideal for use with paper labels. (If your label will be exposed to moisture or abrasion, consider using a polypropylene label with a 6100 or 6200 ribbon.)
6100 wax/resin ribbon: Use the 6100 with either polypropylene labels or paper labels requiring greater durability. The 6100 is highly resistant to scratches, smears and most moderate chemicals.
6200 resin ribbon: Resin is the most durable of the ribbon options and is intended for use with polypropylene labels. The 6200 has superior resistance to smears, scratches, harsh chemicals and extreme temperatures.
Shop for the 6000 line of ribbons here. Simply select whether you have a tabletop or desktop printer and shop the wax, wax/resin and resin ribbons for both types of printers.