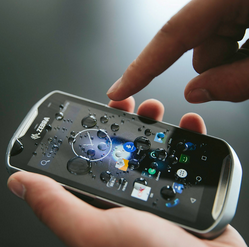 Introducing the Zebra TC51/TC56 touch computer series! Since businesses want rugged devices that last for several years while modern workers want something that is as easy to use as their smartphones, Zebra equipped the TC51 and TC56 with Android OS and combined enterprise-class security with consumer-style design. Connectivity is the key difference between the two models: the TC51 is Wi-Fi enabled while the TC56 has both Wi-Fi and 4G LTE cellular connectivity.
Zebra gives you the choice of how to implement Android with two configurations, "standard" or "professional", giving your team the freedom to choose whether you want to leverage Google apps like Gmail and Google's enterprise device management tools or a closed environment with greater privacy of data and device location. Security is a huge advantage of Zebra's TC51 and TC56: Android and Zebra's Mobility Extensions (Mx) prevent unauthorized users from accessing the device and the installation of unauthorized apps being downloaded.
Use your finger, stylus or even a gloved finger to interact with apps on the capacitive touchscreen–even if the phone is wet! Both handheld computers can scan 1D/2D barcodes even when they are damaged, dirty, scratched or poorly printed. Just point and shoot the barcode scanner from up to 24″ away!
BUSINESS APPLICATIONS:
Retail employees can monitor inventory levels from anywhere in the store, review planograms and access shopper loyalty information on the spot
Delivery drivers will benefit from turn-by-turn GPS navigation, rapid inventory count of shelves and being able to scan items as they are removed from the truck
Field service technicians will be able to process payments and capture signatures in real time, do an inventory of parts and ensure the right parts are being used on the job site
WHERE TO BUY: Shop for the Zebra TC51 here and the Zebra TC56 here.