Zebra Thermalock 4000D Label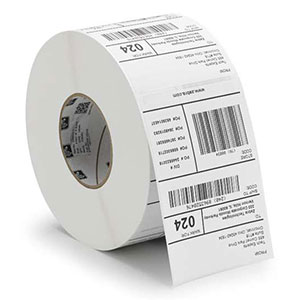 THERMALOCK 4000D: A DIRECT THERMAL ALTERNATIVE POLYPROPYLENE LABEL THAT'S HOT STUFF
ThermaLock 4000D is Zebra's solution for applications with tough-to-meet durability requirements. It was introduced one year ago as the high-performance, direct thermal alternative polypropylene label that uses an innovative direct thermal media technology to create a more permanent image. The label features excellent resistance to heat and outdoor exposure, does not require a ribbon, and—most importantly—it Does. Not. Fade.
The unique thing about the direct thermal media technology supporting ThermaLock 4000D is that it results in a physical change instead of a chemical change. Most direct thermal media uses heat to cause a chemical change by utilizing leuco dyes, but leuco dyes are susceptible to UV light, heat and chemicals. ThermaLock 4000D uses heat to cause a physical change, which means the label image is more permanent and offers significantly better heat and outdoor resistance. More specifically, the black layer that is revealed is carbon-based (just like a TT ribbon), which is not, of course, susceptible to UV light or heat below 248° F.
ThermaLock 4000D was created with some specific scenarios in mind. 
Customers looking to replace P4T printers
Outdoor applications
Extended exposure to constant heat at temperatures up to 248° F
Indoors under fluorescent lights for 12–18 months without fading
ThermaLock 4000D is also an economical choice for customers with their eye on the bottom line. Positioned in-between Zebra's thermal transfer paper and our thermal transfer synthetic materials, it costs significantly more than direct thermal and thermal transfer paper materials, but is noticeably less expensive than direct thermal and thermal transfer synthetic materials.
The direct thermal alternative polypropylene material in ThermaLock 4000D reacts much differently to chemicals than traditional direct thermal. While oil-based chemicals are non-resistant, non-oil-based chemicals become unscannable for a period and then become scannable again. Customers with applications that involve contact with non-oil-based chemicals must test direct thermal alternative polypropylene material in their application before purchase, as the duration period of unscanability varies by the type of chemical used and the way it is applied.
Please also take note of scuff resistance. In short, direct thermal alternative polypropylene material exhibits performance similar to the non-top-coated direct thermal paper used with Z-Perform 1000D, which means that it is not scuff resistant. ThermaLock 4000D nevertheless provides a viable alternative to polypropylene thermal transfer labels, as long as scuff and weak chemical resistance is not required.
Zebra Thermalock 4000D Data Sheet