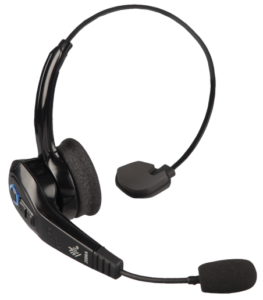 Did you know Advanced Automation sells Zebra's HS3100 and HS2100 rugged, noise-canceling headsets? These two feather-light headsets pair with the WT41N0 and  WT600 wearable computers, which you may have read about on our blog in this post. Both models offer flexible wearing styles: users can decide whether to wear their device over the head or behind the neck. They come with replaceable pads that keep the headsets hygenic, plus detachable swivel microphone booms that can be shared across shifts, reducing your capital costs. The HS3100 and HS2100 are ready for sub-zero temperatures and outdoors, withstanding extremes of -22 degrees F to 122 degrees F. They have IP67 sealing, which means they are both dustproof and waterproof.
Where the HS3100 and HS2100 differ is in how they connect to the wearable computer. The HS3100 connects via bluetooth–a cordless headset at last!–while the HS2100 connects with a cord. Customers who work in more rugged environments will save money replacing headsets due to ripped cords switching to the cordless HS3100.

If your business is using the WT4070 or WT4090 mobile computers that were discontinued several years ago, this is an ideal time to upgrade your technology to the WT41NO or WT6000. With mobile computer upgrades, you can expect improvements to the operating system (OS), scan engine–ability to read more complicated codes, even damaged codes–RAM, flash and overall processing power.
Questions about the HS3100 or HS2100 or mobile computers? Contact Advanced Automation for help finding the best solution for your business!